Podcasts
We offer management consulting for business owners hoping to grow and scale.
Trends in Injector Recruiting with Mary Beth Hagen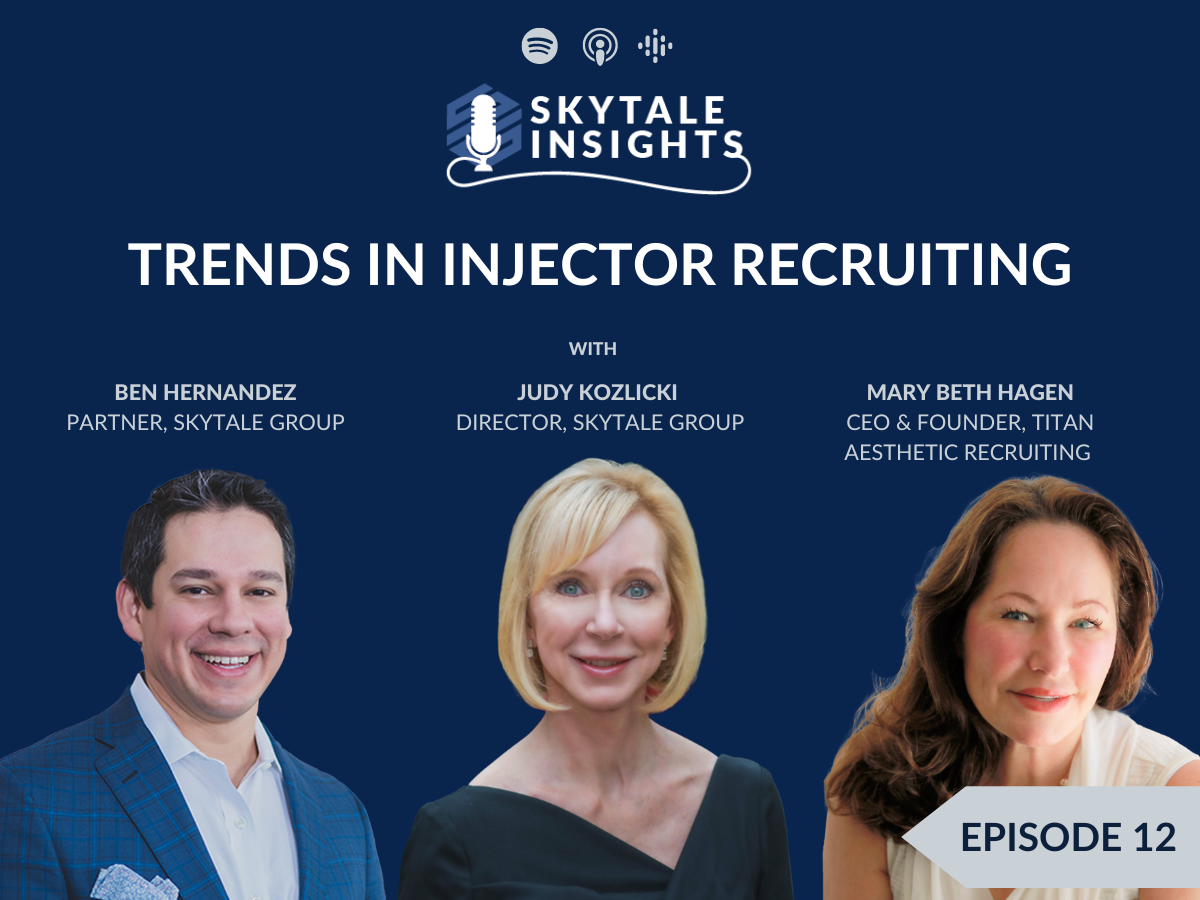 On this week's episode of Skytale Insights, we return to the topic of injector recruiting and provider training with host Ben Hernandez and Skytale's Judy Kozlicki who are joined by industry expert Mary Beth Hagen, CEO and Founder of TITAN Aesthetic Recruiting.
Since 2005, Mary Beth Hagen has served the needs of the aesthetic industry making her prominent figure and industry leader. Previously, Mary Beth has held positions at Galderma and Allergan in product and national account management. Throughout her time serving the aesthetics industry, Mary Beth saw pain-points in matching top-tier injectors with new practices. So in 2017, Mary Beth started TITAN Aesthetic Recruiting to help fill in the gaps between providers and practices.
In this Episode, You'll Discover:
Trends in injector recruiting
Injector supply & demand
What makes TITAN Aesthetic Recruiting stand out
Advice for practices wanting to attract top-tier injectors
Candidate screening, injector training, and more!
Episode Insights:
What trends have you noticed over the years in relation to injectors, and how do those trends affect the industry?
"…I think the other thing that is a very interesting trend is that so many of the injectors who have been injecting for 10 or 20 years have looked to start their own practices in the last couple of years. And so we're seeing a lot of the very experienced, very tenured aesthetic providers leave practices where they may have worked traditionally and start their own aesthetic practices." – Mary Beth Hagen, CEO & Founder of TITAN Aesthetic Recruiting
What are some of the essential skills that top practices look for in providers?
"You have to be able to follow protocols. You have to be able to look for adverse events. But, you also have to be a great communicator, and be able to not only listen to what the patient is expecting for their treatment, have the ability to educate them on the potential treatments, help create a treatment plan, and then to be able to see the art of the possible with aesthetic treatments." – Mary Beth Hagen, CEO & Founder of TITAN Aesthetic Recruiting
What is the biggest challenge facing the aesthetic industry in terms of regulation and guidelines?
"It all goes back to the biggest problem that we still have that is every single state has different laws and guidelines on who can inject and what they can inject, and how the industry is looked at…" – Mary Beth Hagen, CEO & Founder of TITAN Aesthetic Recruiting
Connect with Mary Beth Hagen:
Connect with Skytale Group
Strategy and insight, right in your inbox.
Subscribe to our email list for episode updates and releases.