Podcasts
We offer management consulting for business owners hoping to grow and scale.
Acquisition Vs. De Novo Growth: Which is Right for Your Dental Practice?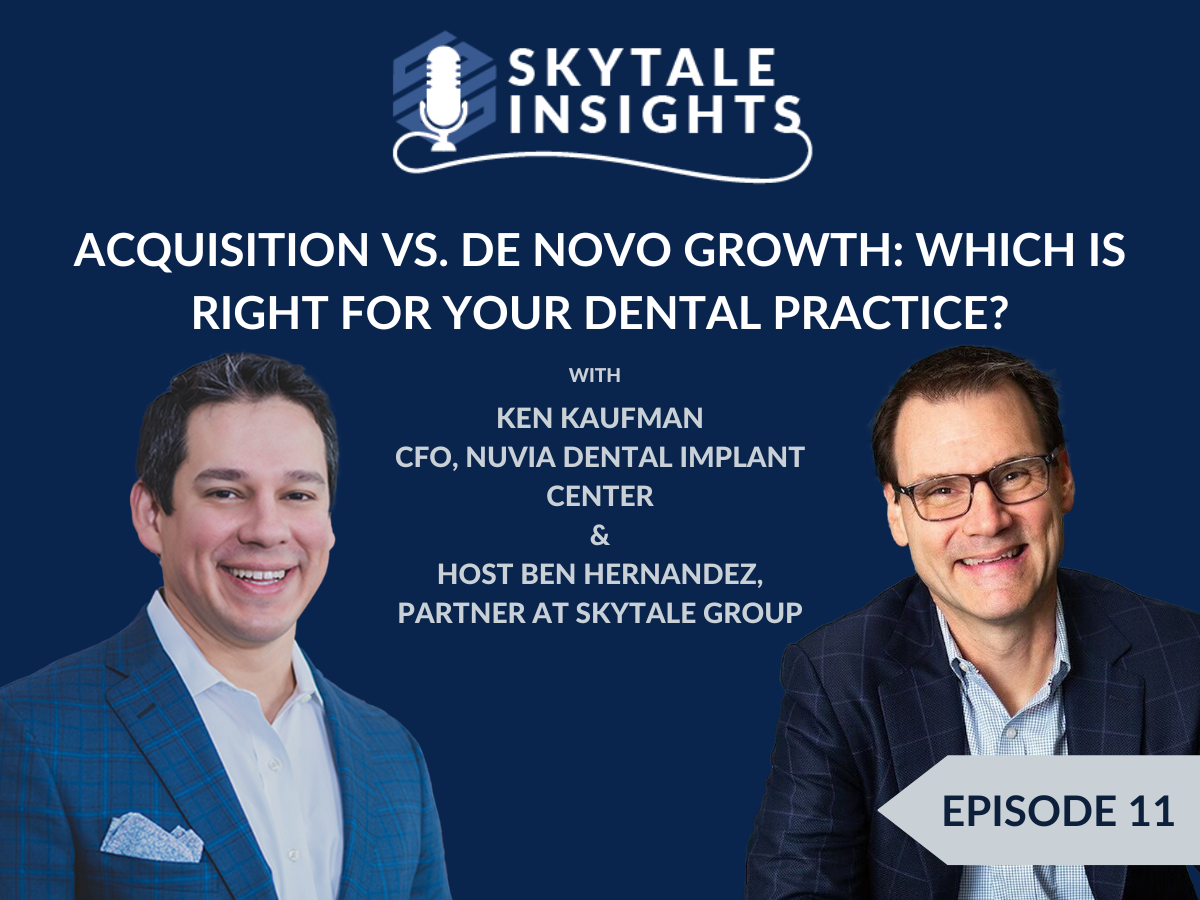 Acquisition VS. De Novo Growth: Which is Right for Your Dental Practice with Ken Kaufman
In this episode of Skytale Insights, Ben Hernandez is joined by Ken Kaufman, dental industry expert, DEO Partner, and recently published author. Ben and Ken discuss his recent publication, "DEO's Financial Secrets to Grow Dental Organizations: The 9 Required Clarity Tools", the current economic environment, and the challenges and opportunities of acquisition and de novo growth models, respectively.
Ken Kaufman is the CFO & VP of Corporate Services at Nuvia Dental Implant Center. Since 2004, Kaufman has served in CFO and President roles in venture capital and private equity-backed high-growth organizations, helping to drive the growth of 3 to 10x during his tenure at each. Kaufman has received many accolades throughout his career, such as being awarded Utah Business Magazine's CFO of the year, making their top 40 under 40, and being named V100 entrepreneur by Signal Peak Ventures. 
In this Episode, You'll Discover
Insights into the economic environment and potential for a recession

Overview of acquisition growth models

Overview of de novo growth models

Pros and cons of acquisition versus de novo growth models

If a hybrid growth model is possible

The future of the dental space
Interested in going to the DEO Growth Summit in San Diego? Listeners can use Ken Kaufman's promo code, DEOKEN, to receive $250 off registration and a free copy of Ken's book! Head to www.deosummit.com and use DEOKEN at checkout!
Episode Insights
What is the potential impact of a low financial covenant ratio on the acquisition process, and how can buyers mitigate this issue?
"The financial covenant ratio is down right now, and they may be saying, "Hey, we'll only go to two and a half or three times ebitda". That means you've gotta come up with some cash going into that, or get seller financing… ask [the group you are buying] to basically finance because you are not paying a hundred percent of the price up front."
What are some key considerations when acquiring a new practice?
"Don't show up and say, 'Hey guys, nothing's gonna change', because something's going to change, and over time lots of things will change because it makes good business sense… The second one is don't mess with people's compensation unless it's getting better. Don't show up and say we're taking these things away from you. If you know the new group coming together now… have access to better benefits, show up and sell that"
What are some advantages to the de novo growth model versus the acquisition model?
"I'll step back and make one point really clear, which is what I love the most about the de novo model. When you build a business, you want to have levers that you can pull to improve things, or, if something's not going well, you want to be able to diagnose it quickly. So, you need good data, then you need to know what's the actionable result, or the action that can be taken to create the outcome or the result that will be better. So, in the de novo world, you've got more levers to pull to build the business…
[In the acquisition model], if production goes down in this practice over here, it could be a whole different set of challenges and issues than this practice over here. Whereas in your de novo strategy, if you've got a consistent platform so you proliferate processes and systems that can scale, and you can run the business better over time."
Does an acquisition and de novo hybrid model work? How could an owner go about this type of growth strategy?
"I have. At Community Dental Partners we did some of both. We had a very strong pediatric brand that was a de novo model, and then we did some affiliations. So there's definitely a way to make it work. But what I'll tell you is, so when you're doing affiliation or when you're doing de novo… Your teams end up really struggling because they're used to doing everything the same way, and now everything's different. And so what I've found, Ben, especially as an organization, tries to grow and scale, you end up [needing] two teams. You end up sort of having to separate who's doing the affiliation where a lot of integration work needs to be done, and, at some point then they hand it over to the 'keep it reoccurring team' "
Connect with Ken Kaufman
Ken's Book – DEO's Financial Secrets to Grow Dental Organizations: The 9 Required Clarity Tools
Follow Skytale Group
Strategy and insight, right in your inbox.
Subscribe to our email list for episode updates and releases.