Best of the Skytale Insights Podcast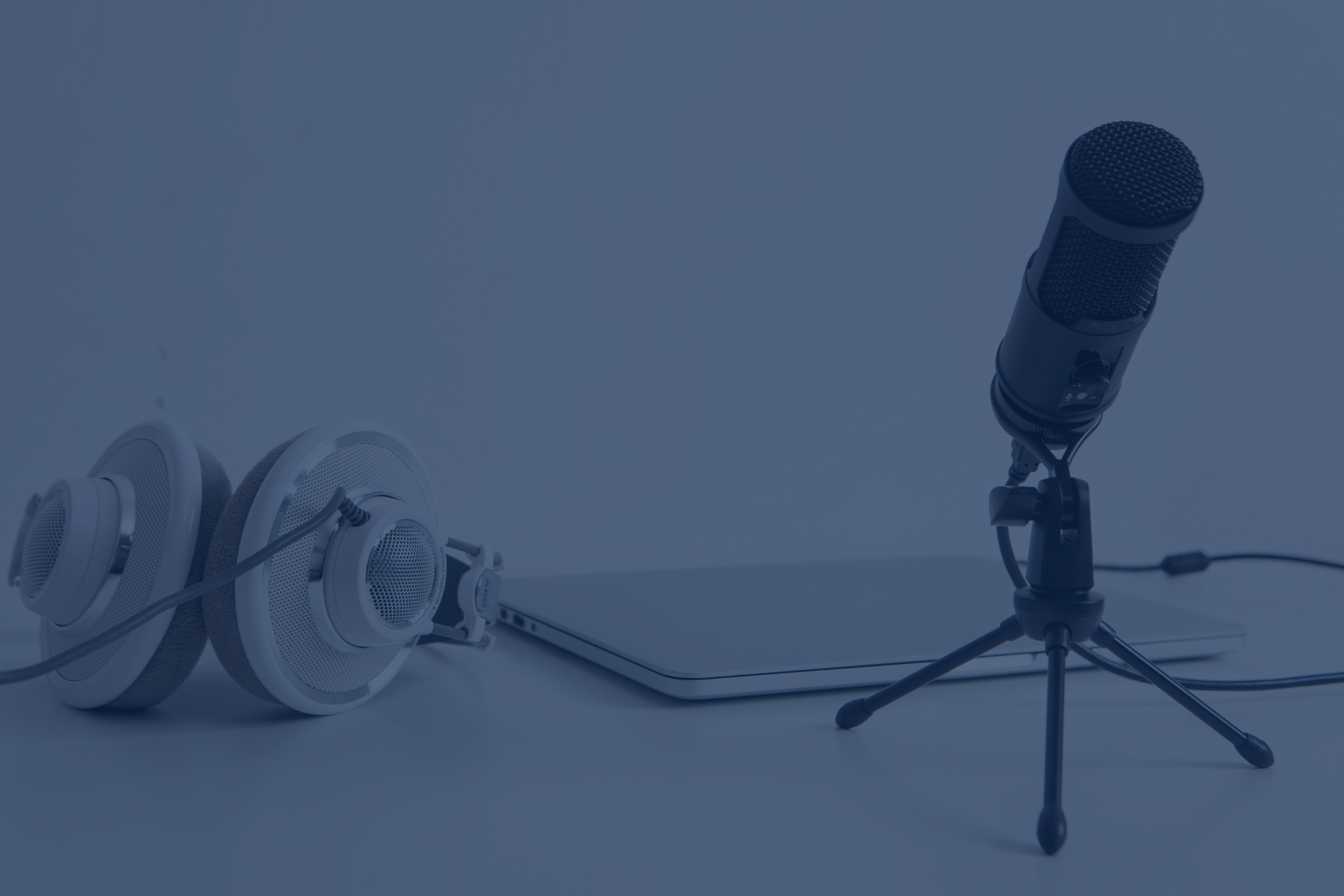 Grow Your DSO or Aesthetic Practice with Insight from Industry Experts
Did you know we launched a podcast? Now, busy practice owners can stay on top of aesthetic and dental industry trends, growth strategies, and insight on the go. Whether you're on a walk or on your commute, join our consultants and industry experts in conversation on the Skytale Insights podcast. (Subscribe on Apple podcasts, Spotify, or your favorite podcast app.) Grow your DSO or medical aesthetic practice with insight from experts in every facet of the dental and medical aesthetics industries.
Our podcast library is growing, and we don't want you to miss out on the helpful—and free—education. Check out a recap of our podcast episodes below!
Got something you'd like us to talk about or someone you think we should talk to? Get in touch with us.
How to Build a Successful Team with Steve Markowitz, MD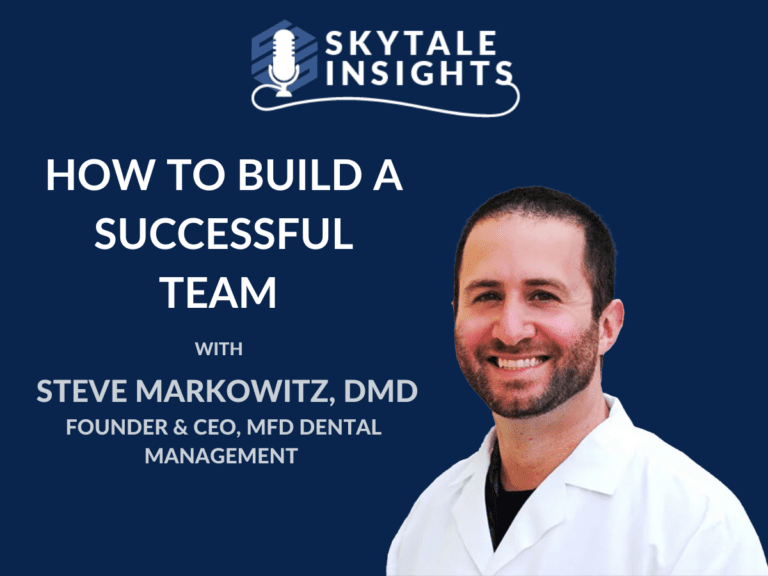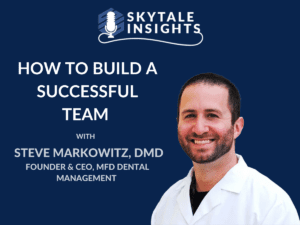 Industry: Dental
Episode Takeaways:
Key principles for establishing a successful team and company culture

The importance of trust in team dynamics and strategies for cultivating it

Effective conflict resolution techniques for managing workplace disputes

Best practices for integrating new acquisitions into your business operations

Exploring MFD Dental Management; an insider's perspective on operations and growth strategies
Eric and Steve discuss MFD, a dentist-owned and led dental organization whose mission is to change how people feel about going to the dentist through creating amazing experiences. Dr. Markowitz shares what makes his business successful and offers insight into how owners can build a resilient team. Plus, here's his take on what a clinical director does.
What's Happening in the Aesthetics Job Market with Bree Black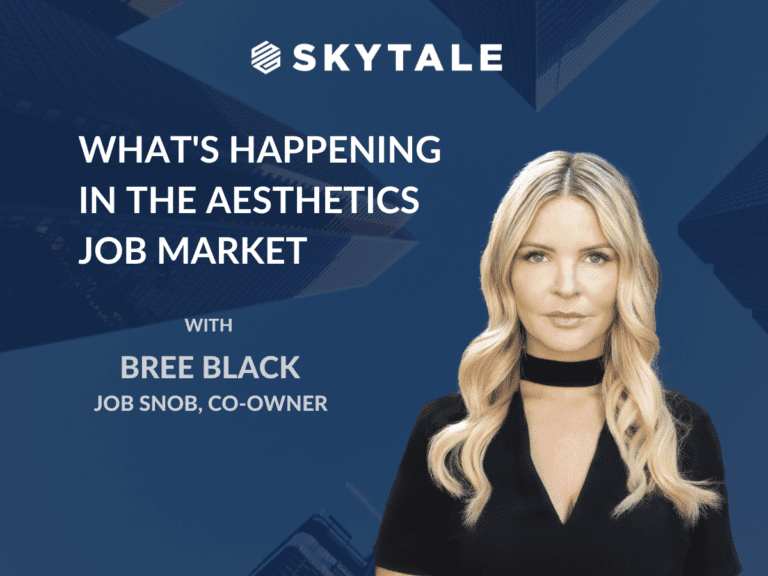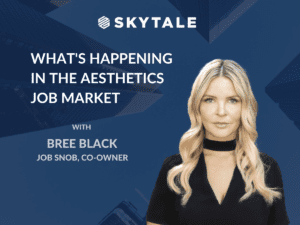 Industry: Aesthetics
Episode Takeaways:
Skills and qualities practices look for when they hire new employees

Compensation and benefits packages top candidates are looking for

Why talented injectors and providers leave their positions, and strategies to retain talent

What it's like to work with a recruiting company to fill a position

Job Snob's recent partnership with AmSpa

Job Snob's data on compensation benchmarks for providers and aesthetics employees in various markets

The industry's provider (specifically injector) shortage, and what practices can do to retain providers in a competitive market

What is an "acquisition matchmaker"? A new way Job Snob is making connections in the industry
Bree and Eric discuss Job Snob, a talent and recruiting platform for medical aesthetics businesses. Bree shares how her company has evolved with the industry, hiring trends in the aesthetics job market, and tips for both business owners and candidates.
Advanced MedAesthetic Partners: Consolidation in the Aesthetics Space with Nicole Chiaramonte and Drew Fine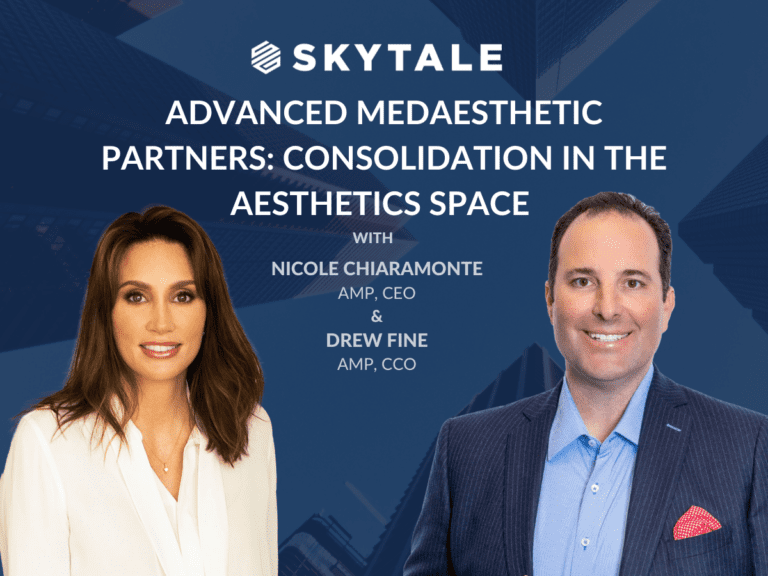 Industry: Aesthetics
Episode Takeaways:
Behind the scenes of Advanced MedAesthetic Partners (AMP)

Insights on building your business and preparing to sell

Determining what you want out of selling your business

Future trends of the aesthetic space for sellers

Finding the right fit when selling your business
Nicole Chiaramonte, CEO, and Drew Fine, CCO, discuss the platform they are building, Advanced MedAesthetic Partners, and how it is transforming the medical aesthetics industry through consolidation and innovation. They share their insights on how the med spa industry is evolving, the importance of building a great business, creating a strong team, and staying ahead of the curve in the highly competitive world of medical aesthetics.
Navigating the Complexities of Mergers and Acquisitions with Mike White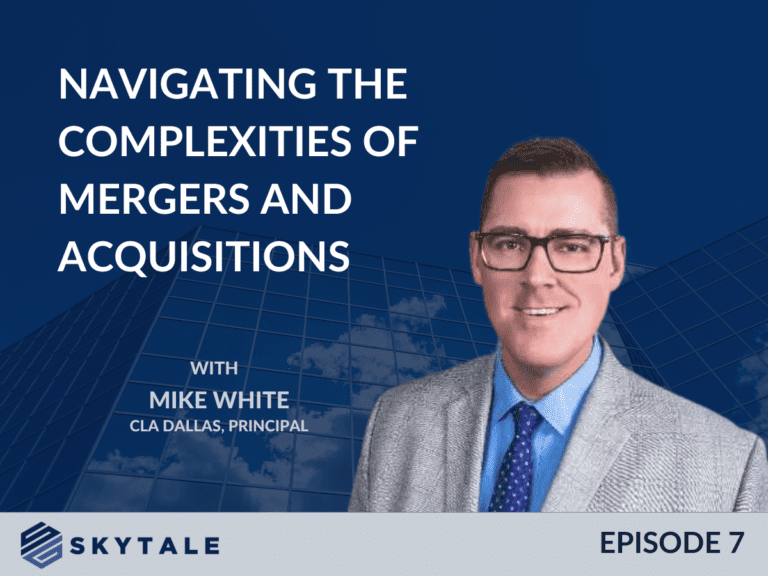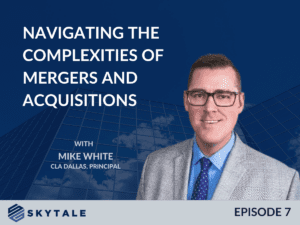 Industry: Aesthetics
Episode Takeaways:
Mergers and acquisitions in the healthcare industry

Effects of inflation, recession, and layoffs on mergers and acquisitions in healthcare

How businesses are usually valued— and how to increase it

The different components of a deal, such as cash at close, rollover equity, and earnouts

The long and complicated process of selling a business

Significance of having the right partner

Importance of understanding the tax implications and legal considerations when selling a business
Mergers and acquisitions exist in the healthcare industry too, and just like in any other industry, there are a lot of concepts to consider. One of them is business valuation. Mike White gives fresh insights about the questions we pondered and sheds light on concepts that could help sellers appeal to their potential buyers while understanding these buyers' perspectives.
Unlocking New Opportunities to Propel Your Business Forward with Neekan Rivera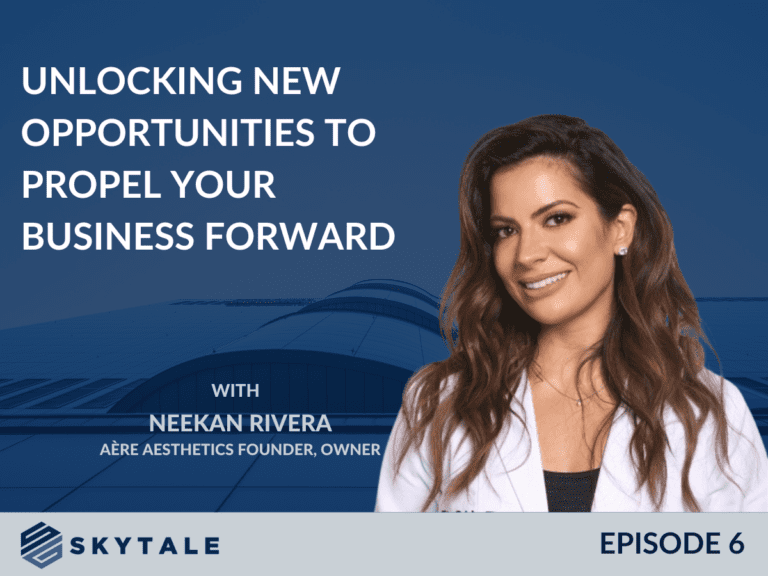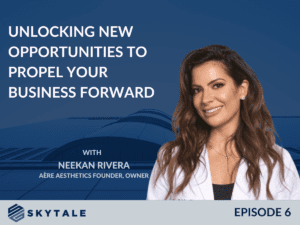 Industry: Aesthetics
Episode Takeaways:
Neekan's journey of how she became a leader in the aesthetic industry

Motivation to propel your business

Why transparency is key to driving your business forward

The importance of knowing when to ask for help in making decisions
With the right guidance, entrepreneurs can turn their vision into a profitable and sustainable business. Neekan Rivera shares her journey with listeners about how she grew her company, Aére Aesthetics, from a single-location practice to successful multi-location practices. As a long-time client of Skytale Group, we have had the privilege to see Neekan unlock the new opportunities of her business and achieve her dream of opening a Beverly Hills location.
Tips & Best Practices for Med Spa Membership Programs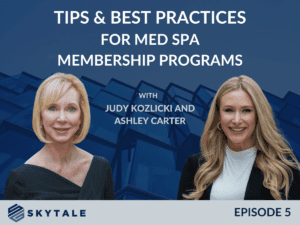 Industry: Aesthetics
Episode Takeaways:
What a membership program is in the medical aesthetics space

The reason to start a membership program from the perspective of a business owner

Tips and advice to implement a membership program

Pitfalls to avoid when setting up a membership program

How to measure the success of a membership program
Setting up a membership program is a proven way to keep our clients loyal. But creating one could be tricky. There should be a delicate balance where both the clients' and the business's objectives are satisfied. Judy Kozlicki and Ashley Carter give their tips about structuring the membership program that fits you and your clients.
Daxxify: What You Should Know About the New Neuromodulator with Judy Kozlicki and Ashley Carter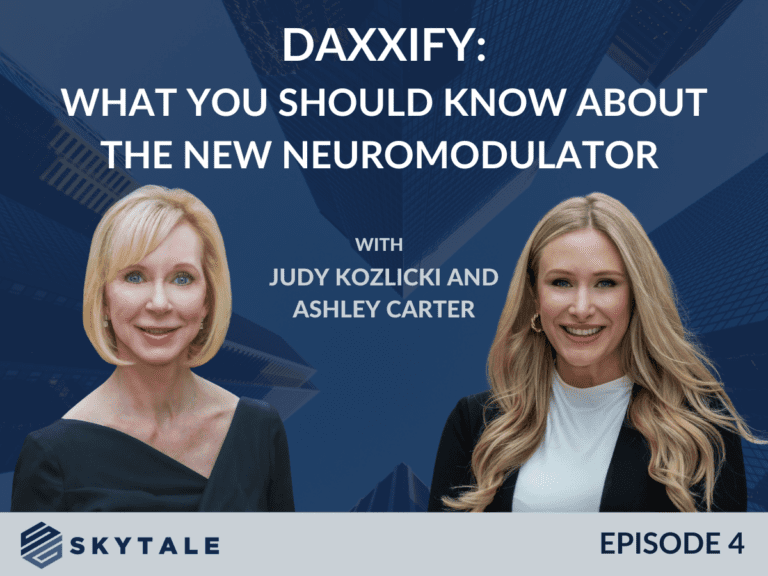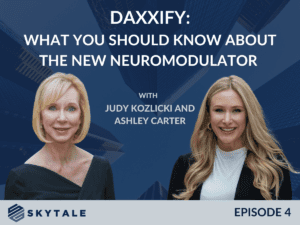 Industry: Aesthetics
Episode Takeaways:
What Daxxify is

What Daxxify's edge is in comparison to other neuromodulators like Botox, Xeomin, Jeuveau, etc.

How medical aesthetics businesses should approach the implementation of Daxxify

Why Daxxify is a great investment for clinics and medical aesthetics businesses

Early concerns for medical aesthetics business owners and how to tackle these

The community's response to Daxxify

Addressing the fear of consumers
Is Botox really out now that a new and better promising competition has arrived? How will Daxxify change the medical aesthetic market and how should we approach this lead? Judy Kozlicki and Ashley Carter share their thoughts and assessment about Daxxify and how it will revolutionize the world of medical aesthetics.
Using Data to Drive and Scale a DSO with Eric Pastan, David Wilson and Greg Mahoney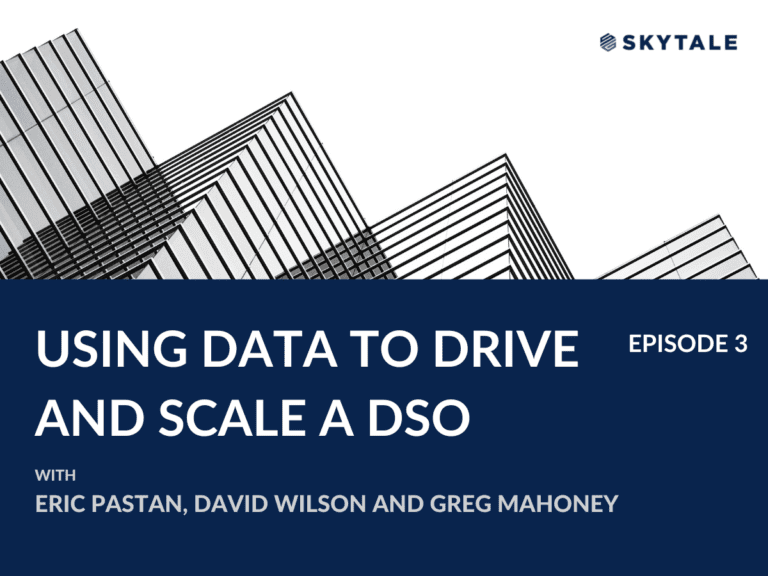 Industry: Aesthetics, Dental
Episode Takeaways:
How the quality of data input into the system matters

The practice management system as a crucial tool to drive data

Data tracking in different fields of the medical and dental industries

How leadership and a culture of excellence ties into being data-driven

Analyzing performance and success indicators

Setting up data collection infrastructure to back up data
Data allows DSOs to provide the appropriate response, services, and patient care, which allows for better operations management and growth projection. Hoping to grow your DSO? James Turcott talks with Eric Pastan, David Wilson, and Greg Mahoney about the success stories on how the power of data and how using analytics and key performance indicators drive and scale DSOs, and what it really means to be a data-driven DSO.
M&A in the Med Spa Industry with Tedd Van Gorden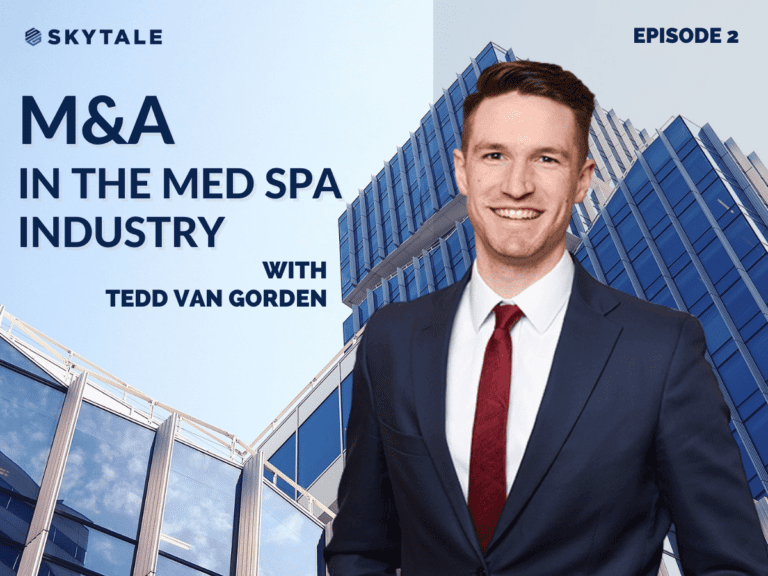 Industry: Aesthetics
Episode Takeaways:
The state of the medical spa and aesthetic industry

What buyers and private equity groups are looking for in the aesthetic space

Cash flow

Service Mix

Pricing

Scalability

Owner's story/reason for selling

How med spa owners can add value to their organization
New technology in the form of digital platforms and physical equipment has brought new excitement to this space, and many private equity firms have shown a huge interest in acquiring businesses that have the right mix of assets and opportunities. Ben and Tedd Van Gorden, VP of M&A at Skytale Group talk about the growing demand and attraction in the med spa industry and how business owners looking to sell can strategically add value to their businesses.
What Makes Skytale Group Stand Out?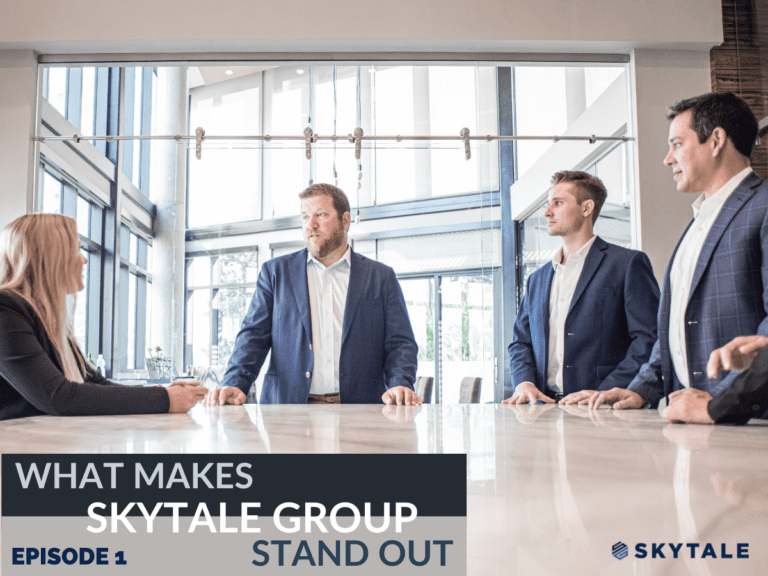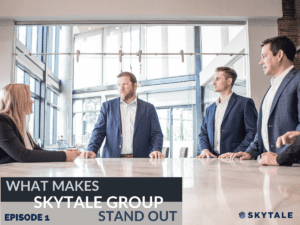 Industry: Aesthetics, Dental
Episode Takeaways:
The people behind Skytale Group and what inspires them to be a part of the team

How Skytale helps dental and aesthetics clients

What sets Skytale apart from other advisory firms

How competitive Skytale is in the market

Why Skytale focuses on healthcare
We don't offer a one-size-fits-all approach. Our experienced team customizes our strategies for every client, ensuring that we deliver deep industry insight with a plan for execution. We work to understand exactly what your organization looks like, listen to your vision for growth, and create a roadmap to help you reach your goals.
Looking for consulting services? Grow your DSO or medical aesthetic practice with Skytale Group.
The podcast offers just a fraction of the wisdom our DSO and medical aesthetic consultants have to offer. Contact us for information to grow, scale, or sell your healthcare organization with Skytale Group.