Podcasts
We offer management consulting for business owners hoping to grow and scale.
Tips & Best Practices for Med Spa Membership Programs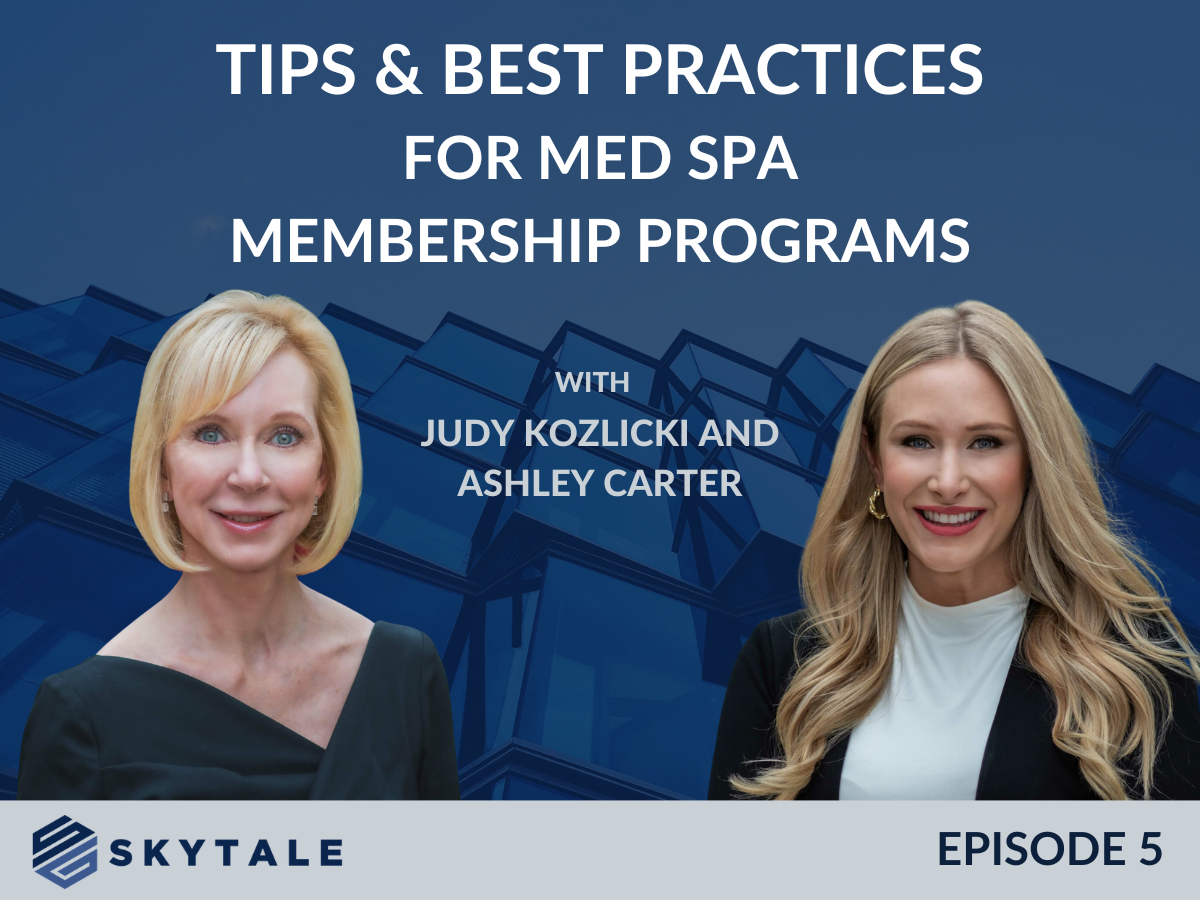 There are various reasons why we create businesses in the field of medical aesthetics. But at the end of the day, we could all agree to this—we want to give the best service to our customers.
But how can we do so? Of course, we need them to stay. We need them to keep wanting our services.
Setting up a membership program is a proven way to keep our clients loyal. But creating one could be tricky. There should be a delicate balance where both the clients' and the business's objectives are satisfied.
In this episode, we are visited by Judy Kozlicki and Ashley Carter once more, both proficient when it comes to medical aesthetics topics, to give us their tips about structuring the membership program that fits you and your clients.
In this Episode, You'll Discover
What a membership program is in the medical aesthetics space

The reason to start a membership program from the perspective of a business owner

Tips and advice to implement a membership program

Pitfalls to avoid when setting up a membership program

How to measure the success of a membership program
 Episode Insights
An aesthetic membership program is similar to any kind of subscription. It's where a patient has the option to break up payments across the period of time to receive specific services and treatments rather than paying all upfront at once.

– Ashley Carter

Providing these memberships really can help patients who want to obtain their skincare goals.

– Ashley Carter

One of the key benefits of a membership program is really building loyalty and then rewarding this loyalty in a way… It's also a great way to really promote a full comprehensive skincare regimen.

– Judy Kozlicki

Med spas should totally be results driven.

– Ashley Carter

Make sure all of your providers, from your providers to your front desk to people answering your calls, know how to speak about the membership and know how to give those patients that full face consult, that personalized skincare treatment plan, and know how to address individually what that patient's skin concerns are.

– Ashley Carter

When you're setting up your membership program, first and foremost, keep it simple. It's really tempting to create a very highly customizable program for patients so that you're accommodating every single person's need. But I am telling you from experience, it can become an operational nightmare.

– Judy Kozlicki

Being able to plan ahead and being proactive rather than being reactive is the key to building a successful membership program.

– Ashley Carter

The measure of success is looking at how many members we have and how many members are we retaining on a practice level.

– Judy Kozlicki
About the Guest:
Judy Kozlicki is a Strategic Advisor of Aesthetics for Skytale Group. Judy Kozlicki's extensive experience gives her a deep understanding of the aesthetic space. She gets to know each client's practice individually, identifies the opportunities for growth, adapts best practices, and works alongside owners to bring their vision to fruition. 
A trailblazer in the business of aesthetics, Judy has held executive-level positions in solo practices, small group practices, and large-scale national med spa operations for over 16 years. 
Ashley Carter is a consultant at Skytale Group. She has worked in the medical field for over 10 years and provides her clients with a wealth of knowledge and expertise in the aesthetic world. She has a deep understanding of both the clinical and financial sides of the med spa business. Her experience has taught her how to navigate the ever-changing landscape of the industry.
Previously, Ashley worked in plastic surgery and quickly became their Lead Nurse Practitioner and Cosmetic Injector. She has also had experience as a Lead Nurse Practitioner and Clinical Director overseeing nine Medspa locations, maintains her registered nursing license, and is a certified Family Nurse Practitioner in several states. She also holds one of the most challenging certifications in the aesthetic industry as a Certified Aesthetic Nurse Specialist (CANS), held by less than 1% of aesthetic nurses in the US.
Follow Skytale Group:
Strategy and insight, right in your inbox.
Subscribe to our email list for episode updates and releases.