Podcasts
We offer management consulting for business owners hoping to grow and scale.
M&A in the Med Spa Industry with Tedd Van Gorden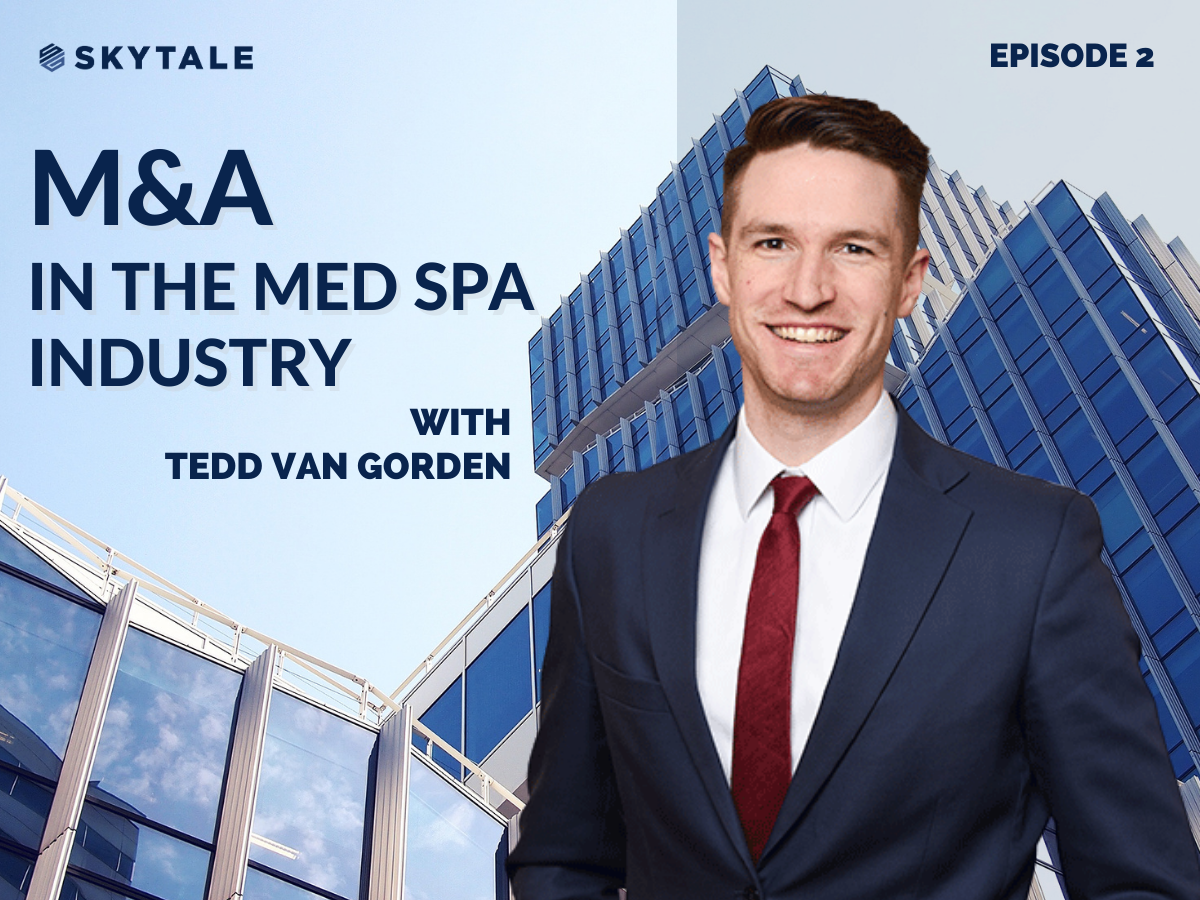 Albert Einstein once famously said, "In the middle of difficulty lies opportunity." As we are seeing a lot of macroeconomic headwinds brought on by the reaction to inflation and a looming economic recession, there is foreseeable growth in the med spa and aesthetic industry. 
New technology in the form of digital platforms and physical equipment has brought new excitement to this space, and many private equity firms have shown a huge interest in acquiring businesses that have the right mix of assets and opportunities.
Listen as Ben and Tedd Van Gorden, VP of M&A at Skytale Group talk about the growing demand and attraction in the med spa industry and how business owners looking to sell can strategically add value to their businesses.
In this Episode, You'll Discover
The state of the medical spa and aesthetic industry

What buyers and private equity groups are looking for in the aesthetic space

Cash flow

Service Mix

Pricing

Scalability

Owner's story/reason for selling

How med spa owners can add value to their organization
 Episode Insights
The market is expected to grow from 13.9 billion to 23.4 billion. So 10 billion in growth by 2027. That equates to a compounding growth rate of around 11%. And they expect it to grow an average of 11% per year until the year 2027. That's an incredible amount of growth, especially in comparison to some of these more established healthcare industries that a lot of investors are already saturated with. – Tedd Van Gorden
New segments including millennials and zoomers are the generation behind millennial zoomers who are really driving this increase in patient demand and cultural acceptance in the industry. And then shifting attitudes about wellness and healthy aging are contributing to this kind of demand within the industry and investor attention on it. – Tedd Van Gorden
Investors want to know about you as the owner. What's your story? Why did you start this business? What do you think about your business? What is your day-to-day impact on the business? What are your roles and responsibilities? They really just want to get to know about you and what you do that's unique. Why do you think your business is great and what do you wanna do going forward? – Tedd Van Gorden
If you're thinking about selling and if you're thinking about talking with investors, they'll wanna know why you're selling and what your personal goals and interests are. Investors really dig in on this. – Tedd Van Gorden
Being smart with how you finance growth and how you approach debt has a material difference to sellers. – Tedd Van Gorden
Med spa owners can add value to their organization by investing in good processes around data. By having the right systems and processes in place to accurately capture this data, business owners will be able to sift through the noise, analyze and display it in an understandable format to see the complete picture of their business. This allows them to identify changes in the market before it's too late to course correct or be able to see new growth opportunities to pursue. – Tedd Van Gorden
Med spa owners should surround themselves with trusted advisors: a good lawyer, consultant, or even an M&A advisor. These trusted advisors are outside people that you have faith in to give good advice and perspective. – Tedd Van Gorden
I've always been baffled by anyone who would sell their business without some help, being that it's typically your largest income-producing asset. And for most of us, if we do ever sell, it'll be one time that we do so in our life. – Ben Hernandez
About the Guest:
Tedd Van Gorden is Vice President of Mergers & Acquisitions at Skytale Group. He helps lead Skytale's M&A advisory engagements, allowing clients to achieve the full value of their businesses and identify new opportunities for growth. 
Prior to joining Skytale Group, Tedd was a Vice President at Ziegler Investment Banking, where he worked with mergers and acquisitions, strategic advisory, capital formation engagements, and agency (FHA/HUD, Fannie/Freddie) financing programs for senior living and healthcare providers and investors.
Follow Tedd Van Gorden:
Follow Skytale Group:
Strategy and insight, right in your inbox.
Subscribe to our email list for episode updates, articles, and more.