Podcasts
We offer management consulting for business owners hoping to grow and scale.
How to Build a Successful Team with Steve Markowitz, MD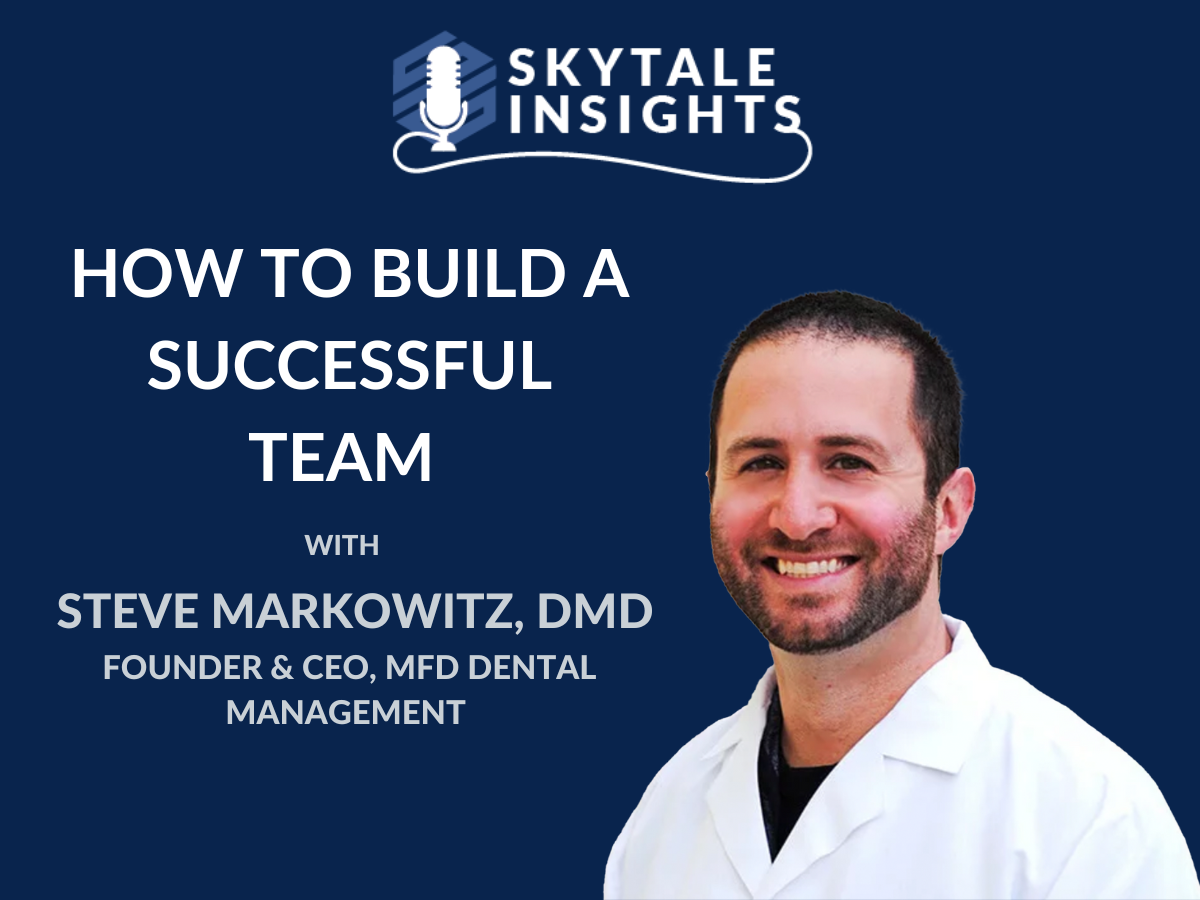 In this episode of Skytale Insights, Eric is joined by Steve Markowitz, DMD, MFD Dental Management founder and CEO. In this episode, Eric and Steve discuss MFD, a Dentist owned and led Dental organization whose mission is to change how people feel about going to the dentist through creating amazing experiences. Dr. Markowitz shares what makes his business successful, and offers insight into how owners can build a resilient team.
Currently Dr. Markowitz and his team are lucky enough to lead 7 practices, 21 dentists and almost 140 team members, and, through their growth, they continue to strive towards offering the best patient experience. 
In this Episode, You'll Discover
Key principles for establishing a successful team and company culture

The importance of trust in team dynamics and strategies for cultivating it

Effective conflict resolution techniques for managing workplace disputes

Best practices for integrating new acquisitions into your business operations

Exploring MFD Dental Management; an insider's perspective on operations and growth strategies
Episode Insights
What is your view on failure and how has it impacted your personal and professional growth?
"I think from my own experience, I've had my greatest growth from failure. So failure is something that I embrace. I hate to lose and I hate failing, but I know that that's what has allowed me to get to this point" – Steve Markowitz, MD
How do you begin to establish trust with team members and foster a healthy working relationship?
"I think it's because I never question their intentions. It's not that they  come in with that trust. It's been earned on both sides from me and to my team" – Steve Markowitz, MD
What are some of the important considerations when expanding a business into a new location, particularly in terms of acquiring a new team?
"I think the first step is having a cohesive team- knowing who's gonna be going into that new location and how they are going to be earning the trust of the existing team. So you can't just go in there and say, 'Hi, we're MFD [and] we know better than you. This is how it's gonna go'. That's not gonna work well for anybody. You're buying in good will. So it's not just the patients that you're [acquiring], it's also the team that you're acquiring" – Steve Markowitz, MD
How important is it for a business to clarify its intentions to achieve a smooth transition, and implement change that results in a healthy business?
The more that we can say sustain our intentions and stick to them, the smoother that transition will go. The quicker we'll get that trust and then the quicker we'll be able to implement positive changes that will result in a healthier business.
Connect with Steve Markowitz, MD
Connect with Skytale Group
Strategy and insight, right in your inbox.
Subscribe to our email list for episode updates, articles, and more.