Podcasts
We offer management consulting for business owners hoping to grow and scale.
Unlocking New Opportunities to Propel Your Business Forward with Neekan Rivera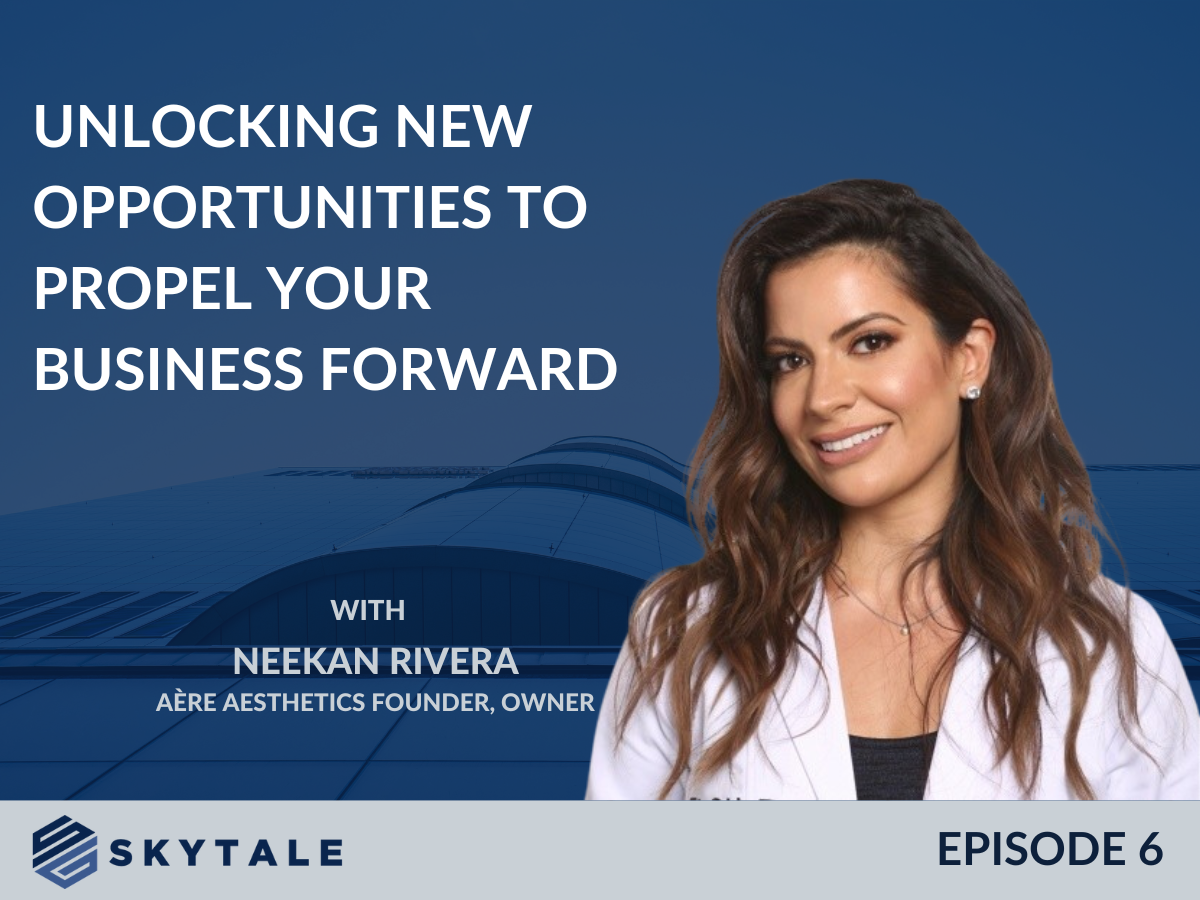 Being an entrepreneur is an exciting venture, but it can also be daunting. Entrepreneurs face numerous challenges and sometimes the journey to success becomes too difficult to find the right way to move forward. They're left with the question: Do my decisions make sense? But with the right guidance, entrepreneurs can turn their vision into a profitable and sustainable business.
In this episode, Neekan Rivera shares her journey with listeners about how she grew her company, Aére Aesthetics, from a single-location practice to successful multi-location practice. As a long-time client of Skytale Group, we have had the privilege to see Neekan unlock the new opportunities of her business and achieve her dream of opening a Beverly Hills location.
In this Episode, You'll Discover
Neekan's journey of how she became a leader in the aesthetic industry
Motivation to propel your business
Why transparency is key to driving your business forward
The importance of knowing when to ask for help in making decisions
 Episode Insights
If I don't have someone guiding me, holding my hand along the way, and saying we can help you get there, this is what you need to do, I might have made a lot more smaller-scale decisions. – Neekan Rivera
It's great to have someone that you can talk to, have honest conversations with, and then we'll take the information to heart and make the necessary changes. – Eric Pastan
To stay in the realm of motivation, keep following your dreams. – Neekan Rivera
Entrepreneurial life can be lonely at times. – Eric Pastan
It's important that we never stop looking at new services and new companies that we could partner with. – Neekan Rivera
About the Guest:
Neekan Rivera is a Physician Assistant with advanced experience and knowledge in both clinical and cosmetic dermatology. She specializes in full-face rejuvenation and passionately provides a wide variety of aesthetic treatments for her clients. Neekan prides herself on her comprehensive knowledge of anatomy and safety, her honesty, her strong attention to detail, and her keen eye for recognizing each patient's natural beauty.
Neekan serves as a trainer for Allergan Medical Institute, Galderma, and PDO Mint Threads and spends much of her free time traveling around the country training other injectors. She uses a variety of techniques to help patients feel lifted, restored and highlighted while reversing the signs of aging and maintaining natural-appearing results that are true to each individual's unique beauty.
She is constantly advancing her own skills by seeking the best training programs in the world to ensure that she always delivers the highest quality and most effective treatments.
Connect with Neekan Rivera:
Follow Skytale Group:
Strategy and insight, right in your inbox.
Subscribe to our email list for episode updates and releases.