Podcasts
We offer management consulting for business owners hoping to grow and scale.
What's Happening in the Aesthetics Job Market with Bree Black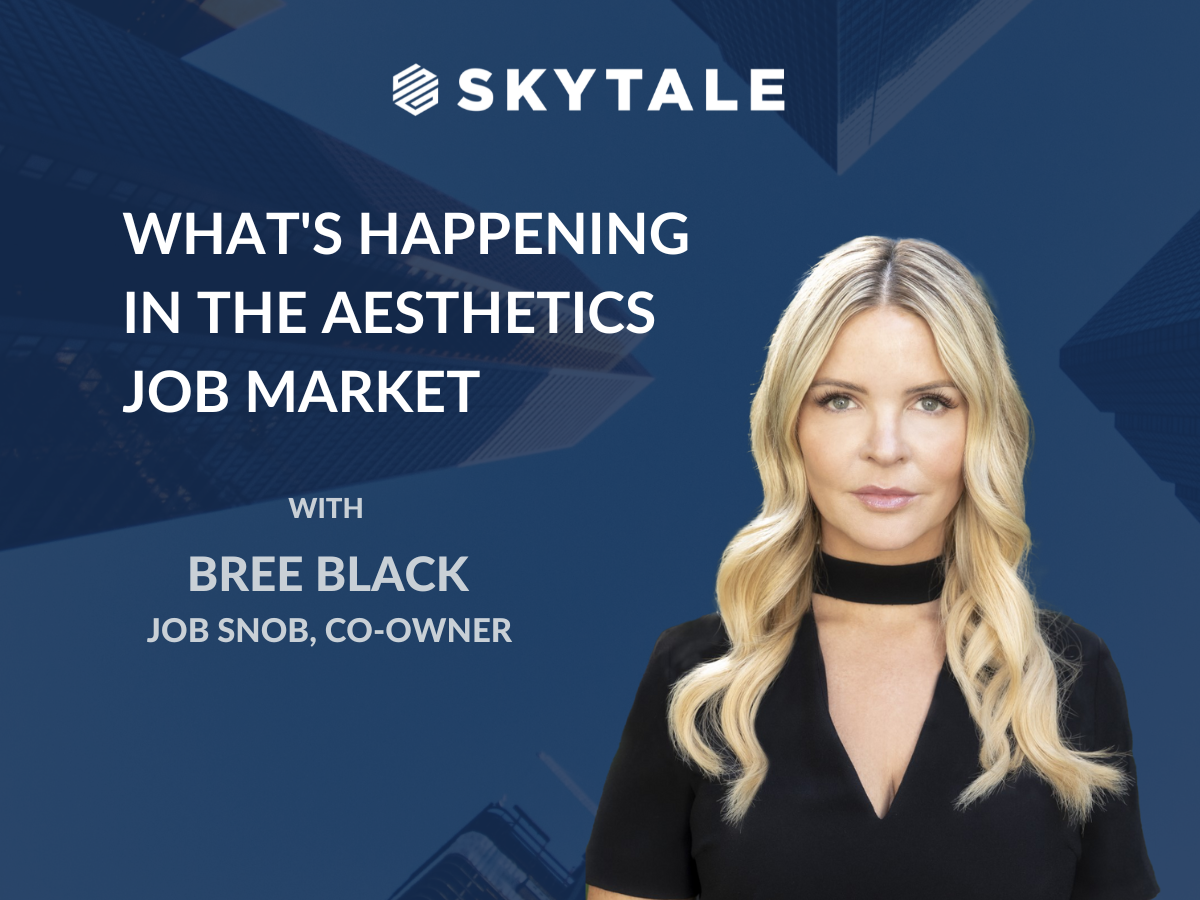 What's happening in the aesthetics job market?
In this episode of Skytale Insights, Eric is joined by Bree Black, Job Snob co-owner and aesthetics industry expert. In this episode, Bree and Eric discuss Job Snob, a talent and recruiting platform for medical aesthetics businesses. Bree shares how her company has evolved with the industry, hiring trends in the aesthetics job market, and tips for both business owners and candidates. 
Bree and her co-founder Kipper Doughty created Job Snob when they noticed there were nationwide staffing challenges for aesthetics practices. The two met working as reps in the Beverly Hills market, but between the two of them they'd covered a wide variety of markets. When they noticed that staffing was a universal challenge for med spas, they thought they might be able to find a way to remedy it. 
Now serving 38 states, Job Snob connects talented providers and professionals to opportunities. The company works with both employers and talent to support the hiring process, leading them to gain valuable insight from the aesthetics industry.
In this Episode, You'll Discover
Skills and qualities practices look for when they hire new employees

Compensation and benefits packages top candidates are looking for

Why talented injectors and providers leave their positions, and strategies to retain talent

What it's like to work with a recruiting company to fill a position

Job Snob's recent partnership with AmSpa

Job Snob's data on compensation benchmarks for providers and aesthetics employees in various markets

The industry's provider (specifically injector) shortage, and what practices can do to retain providers in a competitive market

What is an "acquisition matchmaker?" A new way Job Snob is making connections in the industry. 
Episode Insights
What are aesthetics practices looking for when they hire?
"One universal quality that practices or hiring managers are looking for, regardless of the position, would be having a good attitude… They're going to be operating in a team setting, so being able to work really well as part of a cohesive team, be positive, have a good work ethic, all of those sort of intangible qualities." Bree Black, Co-Founder of Job Snob
How can aesthetics practices improve employee retention? 
"We always encourage practices to build in performance evaluations or designated times to check in with your employees, especially your highest performers…Often times there's something small that you can fix that makes the world a difference to those people." 
"So first would be keeping that open dialogue. Then, offering a comprehensive compensation package and a great work environment that's not toxic. Working to keep and retain your top talent every day is truly important." Bree Black, Co-Founder of Job Snob
How does hiring and retention impact a practice? 
"One of their biggest challenges is, and, and one of their biggest expenses is employee costs. And so how do we mitigate those costs or at least stabilize them over time? So that those costs can become dependable and repeated, and then we can start projecting some of our other decisions based on what we know that continual trend is from an employment percentage." Eric Pastan, Skytale Group
How do candidates want to be compensated in the current aesthetics job market? 
We're seeing a shift towards candidates looking for a more comprehensive compensation package, whereas a few years ago there was this heavy emphasis on making the highest base salary or earning potential, and making a jump to the next tier.
Now we see more and more candidates looking for things like a better work-life balance, less of a commute, more flexibility in their hours, as well as a 401k and profit sharing, and continuing education." Bree Black, Co-Founder of Job Snob
What are common mistakes employers make that hurt the hiring process? 
"One thing that still happens too frequently is failing to follow up or to show up. They just get busy and then even when they're going to make an offer, sometimes let way too much time pass, and then the candidate feels like they're not wanted or valued.
Another thing is not having a.  a well-defined hiring process or interview process.
Sometimes we'll see two different people from the same organization send mixed messages to a candidate or make not be clear about what next steps are. We also see expectations not being set during the hiring process. And then when the candidate gets to the new role, they don't believe that that's what they signed up for." Bree Black, Co-Founder of Job Snob
About Bree Black and Kipper Doughty
Founders Kipper Doughty and Bree Black bring a collective experience of over 20 years in the Medical Aesthetic industry, specifically within Seattle, Dallas, and the greater Los Angeles markets. They were selling Botox and dermal fillers for industry leader Allergan in Beverly Hills, CA, when they met. After years of hearing about the same staffing challenges from nationwide practices of every shape and size, they decided to solve the problem.
Connect with Bree Black
Follow Skytale Group
Strategy and insight, right in your inbox.
Subscribe to our email list for episode updates and releases.