How to Improve New Patient Acquisition in Medical Aesthetics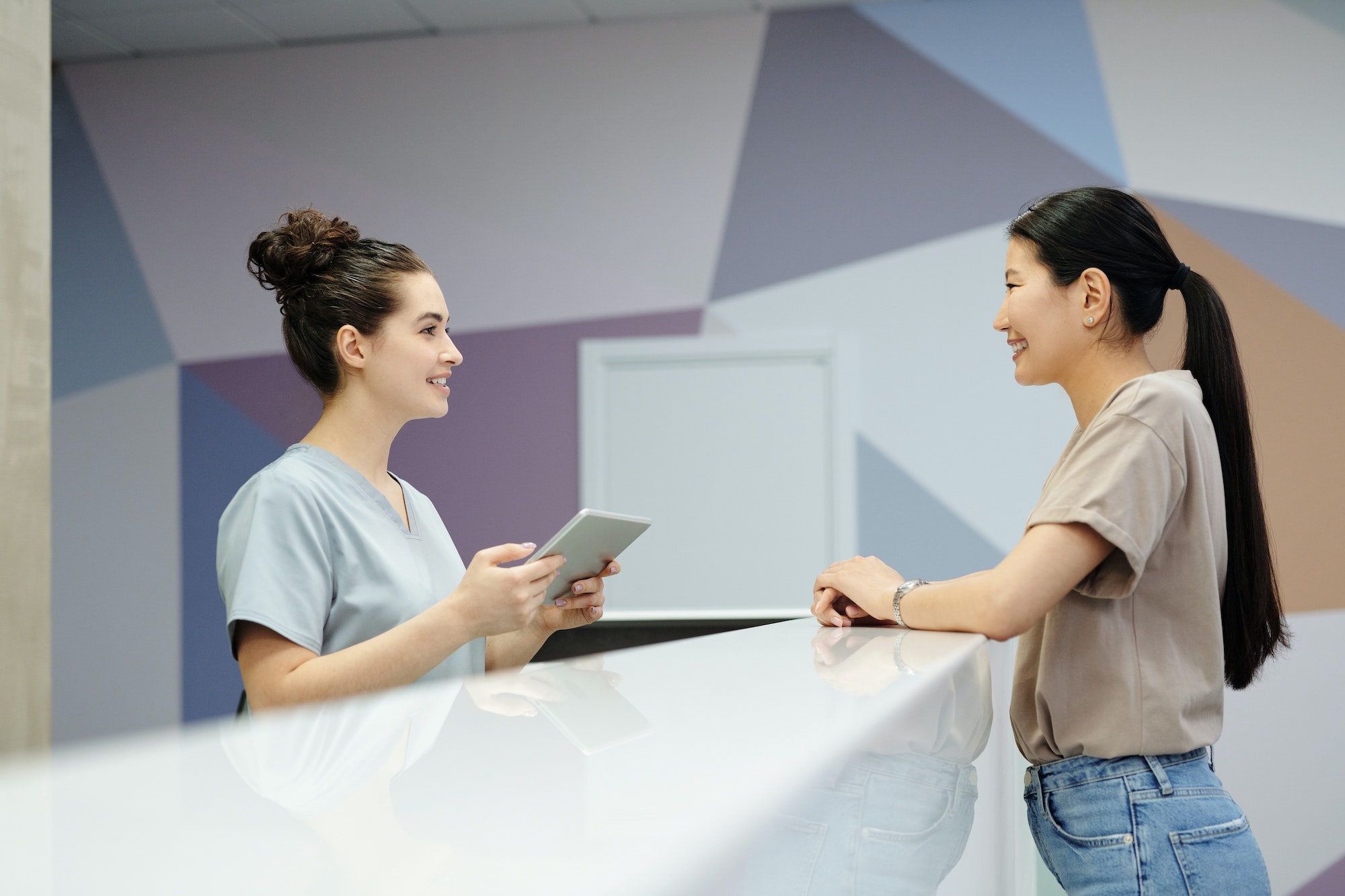 It may seem obvious, but do you know one of the most effective ways to grow a business? It's not just great marketing or perfecting your financial strategies—although those things do matter. But another key part of growth in medical aesthetics is patient acquisition.
Patient engagement is important for any medical aesthetic practice, whether facing an economic downturn or not. From initial contact to new lead management, let's talk about what you need to know to create a memorable patient experience. 
Make Patient Experience a Priority
Patient experience shouldn't be treated like an afterthought. Just because they're already on the phone or in your doors doesn't mean they'll be a loyal customer forever—you have to earn it! The initial inquiry, consultation, procedure, and recovery should all be fine-tuned. Here are a couple of ways to prioritize the patient experience that we'll focus on below:
Mastering the Initial Contact
Mastering the initial contact with a lead is key to improving your practice's patient conversion rate. This is the first time a lead makes contact with your business. So make sure you create an experience that is welcoming, informative, and comfortable!
Optimizing Patient Flow
Understanding the patient flow is key to building rapport with prospective patients and providing the information needed for the lead to convert. The flow might include doctor and practice accolades, the procedure overview, ballpark price ranges, and a potential time frame.
New Lead Interactions
It might help to think about new lead interactions as the first sign of interest from a customer—similar to getting quotes for a home redesign, checking out a car at a dealership, or even swiping right on a dating app. Nothing is guaranteed, but there's potential for the interaction to turn into something great.
A "new lead" specifies the very first time a practice hears from any new patient. New leads can come through channels like social media ads, referrals, word of mouth, or direct phone calls. However, a majority of new leads will come through website forms or phone calls.
Speed-to-Lead
Here's another quick definition to keep in mind: "Speed-to-lead." In medical aesthetics, it refers to the speed at which a potential customer's inquiry or interest is responded to by a business offering aesthetic treatments or services. The faster your speed-to-lead, the quicker you become a patient's first choice.
Auto-Calls
"Auto-calls" turn form submissions into inbound calls. You can amaze prospective patients by reaching out within minutes, not hours, and potentially reach hard-earned leads before they contact a competitor. Practices who use an auto-call platform have a huge advantage in speed-to-lead, and can cause a drastic lift in conversion rate.
Lead Management
Lead management refers to tracking new leads and where they are in the sales pipeline. There are many great tools and platforms that help businesses stay organized in tracking their incoming leads. For example, Nextech offers a lead management platform configured specifically for medical aesthetic practices.
Master Initial Contact
So you've got the potential patient on the phone. What's next? Here are a few best practices to master that initial meeting and improve patient acquisition in medical aesthetics:
Friendly Greeting
The initial phone call is the first direct contact a customer will have with your practice. Ensure you or your practice representatives smile when talking on the phone to leads—and tone matters! In fact, telephone communications are 18% defined by the words used and 82% by tone of voice.
Here are a few quick tips for phone etiquette in medical aesthetics patient acquisition:
Answer the phone in 2-3 rings.

If you need to place a customer on hold, ask for permission.

Never place a caller on hold for more than 60 seconds.
Take the Lead
Taking the lead is a key component in the initial contact with a new patient inquiry. The goal is to act as a guide through the initial phone call to determine the patient's needs and how your practice can help.
New patients will often have a lot of questions in mind when they contact your practice. This can often derail a conversation and become a question and answer game. Make sure you take control of the call by driving the appropriate questions and guiding the lead toward a consultation appointment. Here are a few sample questions to ask:
How did you hear about us?

What time frame do you have in mind for your procedure?

Have you ever had a procedure like this before?
Educate and Engage
Educating and engaging your new lead is key to developing a clear line of communication between the practice and the patient. Below are five steps you can take to set patient expectations, differentiate your practice from competitors, and build trust with your new patient.
Build rapport:

Building rapport with a new patient in the aesthetics industry involves being attentive, respectful, and knowledgeable while making them feel valued and heard. Use the patient's name and use it often!

Share doctor and practice accolades:

Sharing doctor and practice accolades—or unique selling points (USPs)—with a new patient in the aesthetic industry means highlighting the unique qualifications, achievements, and experience of the doctor and the practice. Sharing USPs can help build credibility and trust, and differentiate your practice in a competitive market.

Explain the procedure chronologically:

Make sure to give your patient a brief overview of their procedure, beginning with steps they should take before the procedure, the results and benefits from the procedure, and the anticipated recovery time involved.

Give a ballpark price range:

Giving a ballpark price range will help set the patient's expectations. It also saves time for both the patient and the provider by allowing the patient to determine if the procedure is within their budget.

Discuss the time frame:

Finding out a patient's time frame for a procedure during the initial contact can help manage expectations, plan and schedule the procedure, provide flexibility, and set priorities. This can help improve the patient experience and increase patient satisfaction.
Schedule the Consult
Congratulations, you've almost gotten the patient through your doors! But there are a couple more steps once you're ready to schedule your client:
Review the time frame.

Explain the consulting process in person or virtually.

Confirm deposit readiness.

Select a time.

Use a choice of two positives: "Were you looking for the first available time or did you have a particular day and time in mind?"
Get Help With Patient Acquisition in Medical Aesthetics From Skytale
Now that you've learned about improving new patient acquisition in medical aesthetics, we want to know: What aspects of the initial contact do you think your practice does well? What aspects do you think you can improve?
Skytale Group is here to help med spas grow their practice, build partnerships, understand their finances, and so much more. We can also help you build that new patient acquisition strategy! Please contact us if you'd like to continue the conversation.
And if you've got med spa patients on your mind, check out these keys to an effective med spa membership program.