Annie Hockey Joins Skytale Group's Growing Executive Team to Lead Its Consulting Practice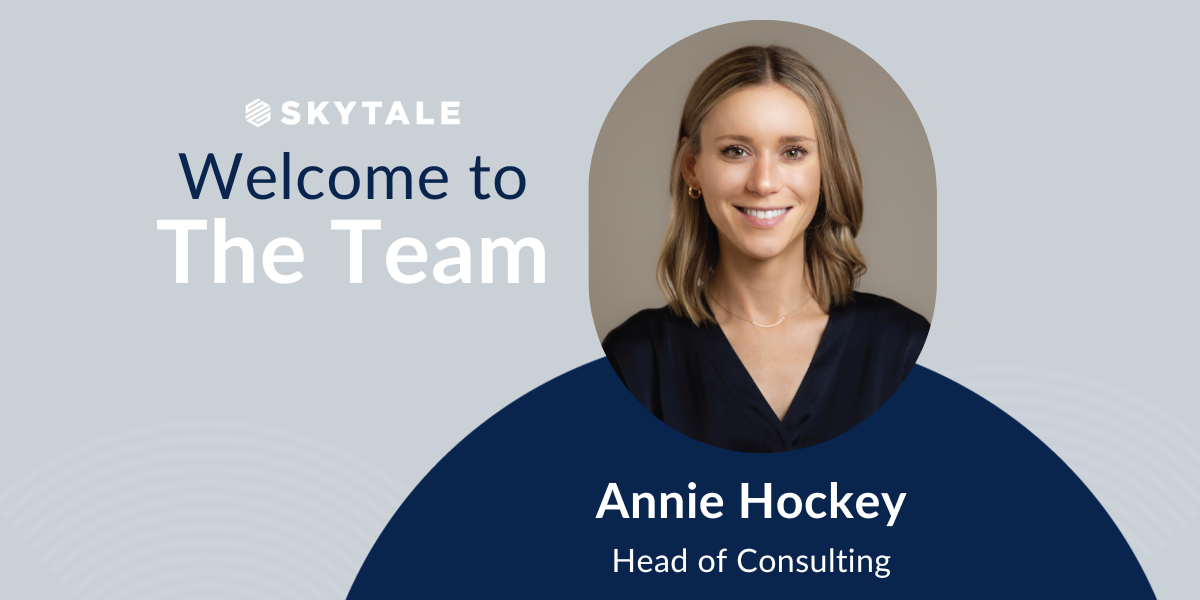 DALLAS, Tex. — Skytale Group, a leading investment bank and management consulting firm specialized in healthcare businesses, is pleased to announce the hiring of Annie Hockey as Head of Consulting. A former entrepreneur, executive, and management consultant, Hockey comes to Skytale with vast experience both building and advising successful businesses, ranging from early stage, venture-backed startups to public and Fortune 500 companies. She joins the firm to expand its Management Consulting business line and, importantly, ensure all Skytale clients continue to receive best-in-class operational and strategic guidance to achieve their business priorities and ambitions.
"Annie's addition to the team will strengthen our existing suite of services and accelerate our ability to meet the growing demands of our clients as well as an evolving customer base including financial sponsor backed portfolio companies and family offices," said Ben Hernandez, Founding Partner and Managing Director at Skytale Group. "Her exceptional track record in both consulting and entrepreneurship solidifies her position as a valuable addition to Skytale's leadership team, which will in turn shape our entry into complementary healthcare subsectors."
"It is rare to find a firm so well-positioned to continue its role as a dominant, and uniquely trusted advisor in a space that I believe is still incredibly nascent," said Hockey. "Skytale's reputation and impact far outpace its years in operation, and I look forward to building upon this momentum and continuing to proactively anticipate our clients' distinctive needs."
Hockey joins Skytale with over a decade of experience scaling growing enterprises and working with business leaders to develop and implement successful firm strategy. Prior to joining Skytale Group, Annie founded and served as Co-CEO of Column N.A., a nationally chartered, technology-focused bank based in the Bay Area. At Column, Hockey led the acquisition of a community bank, overseeing the Board and Regulatory approvals, as well as on-the-ground integration efforts. Before Column, Hockey worked as a Management Consultant at Bain & Company, where she advised both investment platforms and businesses on core business initiatives and firm strategy. Across these experiences, Hockey has developed a unique combination of operational and strategic insight, which she looks forward to bringing not only to Skytale, but also each and every client her team serves.
 About Skytale Group: 
Skytale Group is a management consulting firm and investment bank based in Dallas, TX. Skytale offers tailored and comprehensive strategic guidance to medical practices looking to thrive, grow, scale, sell, or understand the value of their businesses. Skytale's highly experienced team relies on vast knowledge of medical aesthetics, dental, and other healthcare industries they serve to guide clients in making decisions that move their businesses forward. Obsessed with details and efficiency, Skytale analyzes financial statements, systems, and operations to help clients elevate every aspect of their businesses. Learn more at skytalegroup.com.